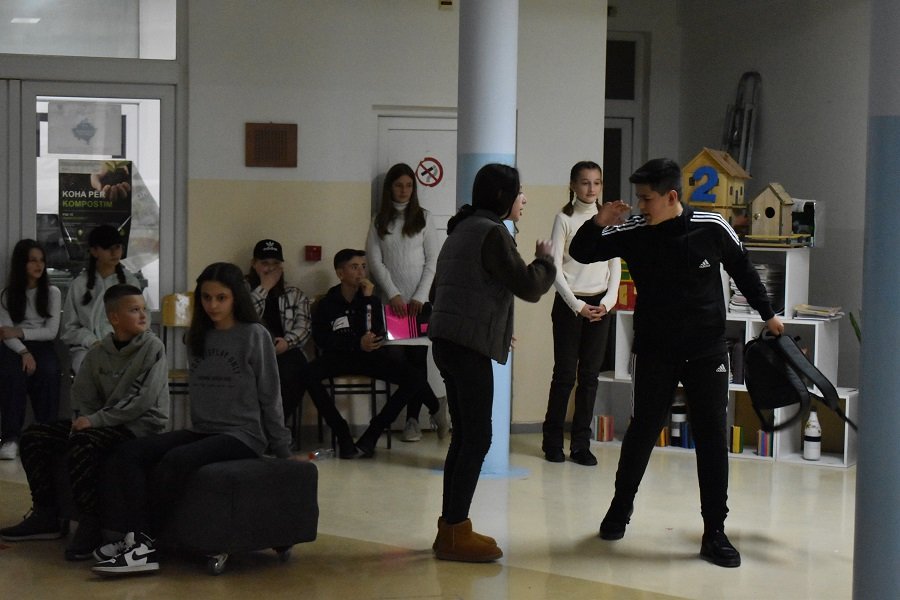 08.11.2021
The play "I want to live" about the pandemic and its consequences in the family
The pandemic has affected each of us in different ways, periods and consequences. But, also pointed out socio-economic differences.
The theater club of SHFMU "Xheladin Rekaliu" on Monday night, on 08.11.2021, brought before the public the play "I want to live" which deals with the pandemic and its consequences in the family and at the school.
Jona and Alex's family are going through a difficult financial situation, and not only. The loss of their father's job and alcohol abuse has begun to destroy the family, despite the unparalleled sacrifice of the mother, who protects the children in every situation. Children do not have the opportunity to attend classes online, however a friend them by giving them a phone.
Jona and Alex's joy does not last long, the situation worsens when Jona is affected by Covid-19. Her mother is forced to sell the phone to buy medicine, but her father does not allow her to do so, who sells the phone to buy alcohol for himself.
The selfish actions of the father and the sacrifice of the mother received the attention of the public after the end of the performance, which was active with various questions and comments about the characters on stage.
This play was created under the mentorship of actor Armend Zeqiri, assisted in directing and drama by student Rona Llugaliu.
"This project is organized by Artpolis – Art and Community Center, with the support of GIZ Kosovo on behalf of the German Government"
You may also like